MASHITUP KRU PRESENTS
THE JIGGY RMX SERIES!!!!!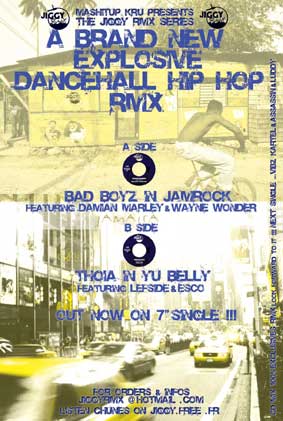 A SIDE
BAD BOYZ IN JAMROCK Featuring DAMIAN MARLEY & WAYNE WONDER
B SIDE
THOIA IN YU BELLY Featuring LEFSIDE & ESCO
DON'T MISS THIS LIMITED EDITION AND BE UP TO DATE ….. WITH THE WICKEDEST DANCEHALL HIP HOP RMX !!!!
LISTEN THE TUNES !!!!!
THOIA IN YU BELLY
BAD BOYZ IN JAMROCK
VISIT US ON http://www.myspace.com/httpwwwmyspacecomjiggyrmx
FOR ORDERS OR FOR ANY INFORMATION LINK WE ON
jiggyrmx@hotmail.com
MASHITUP KRU OUTTA EUROP IS ONE OF THE MOST ACTIVE CREW FOR THE LAST YEARS.
PERFORMING LIVE MIX ACTS ALL OVER EUROP…THE HIP HOP DJ'S AND DANCEHALL SELECTAS FROM THE CREW MELT FLAVOURS OF THE BOTH STYLES IN HOMEMADE REMIXES MASHIN' UP DANCEFLOORS WORLDWIDE !!!!
REQUESTED ALL OVER THEY DECIDED TO DEVELOPP SERIES OF REMIXES ON 7 ' AND 12 ' AND VERY SOON ON CD MIXTAPES 100% EXCLUSIVES RMX … LOOK FORWARD TO IT !!!!
THE FIRST RELEASE JRMX01 HAS BEEN IMPROVE IN SO MANY NITE CLUBS AND DANCEHALLS THAT IT WILL SURELY MASH' UP ANY DANCE !!!!